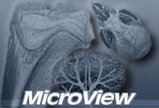 MicroView is a general-purpose 2D and 3D image viewer. It includes many built-in tools for basic image analysis, and an open plugin architecture, which permits the application to be extended and customized by third parties. It is particularly suited for microCT image quantification, yet supports reading and writing of DICOM image data so can be used in a broader context (not certified for clinical use). The basic viewer is provided as an open-source application that runs on 32- and 64-bit Windows, Mac and Linux platforms, while additional plugins are available for purchase.
Features
2D and 3D image viewing

Support for many image formats (TIFF, JPEG, VFF, DICOM, Analyze, Nifti, etc)

ROI extraction tools: geometric primitives, region-growing, histogram-based, isosurface

GPU-accelerated volume renderer

Extendable through plug-ins
Latest Releases
See the Microview website for more details.